As of September 2018, Monika Zimmermann has stepped down from her position as Deputy Secretary General of ICLEI. From organizing the Municipal Leaders Summit on Climate Change in 1993 to acting as the Deputy Secretary General and Deputy Executive Director of the ICLEI World Secretariat, Monika dedicated more than 25 years to building ICLEI into the organization that it is today: a leading global network comprised of hundreds of staff and more than 1,500 local and regional governments worldwide.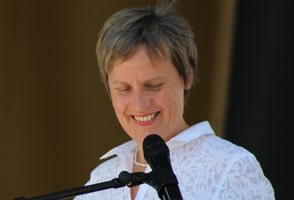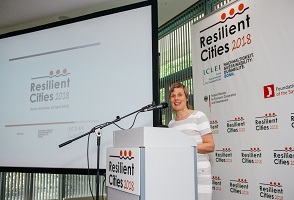 Monika has been a strong advocate for sustainable urban development and localization of global sustainability goals, and her strategic thinking, technical expertise and organizational implementation have helped advance the field. After the United Nations introduced the Agenda 21 action plan for sustainable development in 1992, Monika developed local implementation strategies and guides to complement it. By 1997, Local Agenda 21 had been translated into 18 different languages and adopted by more than 2,000 local and regional governments across the world.
From a very early stage, she helped steer ICLEI into one of its key political roles.
One of the things that is so valuable about ICLEI is that we understand what needs to be handled locally and what needs to be handled at a global level, and how relevant the cooperation of all political levels is," says Monika. "This dual perspective and the global to local connectivity we create has always been one of ICLEI's key distinctions. It is a crucial tool for making global sustainability a reality.
Our early engagement in the global arena is also characterized by the role ICLEI took on  in 1995, when it became the focal point of the Local Governments and Municipal Authorities (LGMA) constituency to United Nations Climate Change, formerly UNFCCC.
Since then, Monika has helped ICLEI represent urban, local and regional perspectives in front of the global community. She has also been instrumental in pushing ICLEI to further develop its strategies and tackle forward-thinking topics like resilient cities, local action for biodiversity, resource-efficiency, green urban economies and ecomobility often by leading ICLEI's technical implementation teams herself.
With her leadership and support, ICLEI grew substantially. As of mid 2018, ICLEI operates in 22 offices across the world and brings an increasingly diverse perspective to the global space. As the world continues to urbanize, and as the urgency of sustainable development intensifies, Monika has ensured ICLEI is positioned to develop and deploy the strategies that will secure a more sustainable future. Although she will no longer be working with ICLEI directly, Monika will continue to work as expert and advocate for sustainable development.