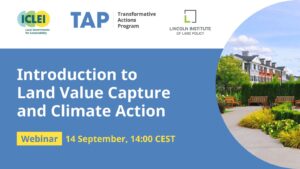 Join us on 14 September at 14:00 CEST to discover how land-based financing tools, such as land value capture, can provide sustainable financing for urban climate investments. You will learn about the principles of land value capture, its relationship to climate investments, and the different types of tools that local governments can use.
Register here.
The impacts of rapid urbanization are being compounded by the impacts of a rapidly changing climate. Urban areas account for more than 70% of global greenhouse gas emissions, while also representing areas of consolidated vulnerability to the impacts of climate change. Responding to the climate crisis must include local governments and stakeholders, yet existing subnational finance flows are inadequate, and cities often cannot access what funding there is due to institutional constraints. However, cities globally are sitting on a largely untapped resource – land. Land-based financing tools (LBF), such as land value capture, provide the mechanisms that link public investment on climate to increases in land value and offer opportunities to sustainably finance urban climate investments.
This 90-minute webinar will introduce the fundamental principles of land value capture and demonstrate how and why it can be used as a financing source for governments, focusing particularly on green infrastructure and low-carbon mobility systems. The event will provide an overview of how different types of climate resilient investments impact land values, the different types of land value capture tools that governments can use to finance the investments, and examples of how local governments are already using such tools for climate action.
Speakers:
Patrick Welch, Climate Strategies at Lincoln Institute of Land Policy
Astrid R.N. Haas: Urban Economist, Adjunct Professor at the University of Toronto, Research Associate at the African Centre for Cities at the University of Cape Town, Extraordinary Lecturer at the African Tax Institute
Dr Eszter Mogyorosy, Head of Innovative Finance, ICLEI – Local Governments for Sustainability, World Secretariat
Moderator: Jaume Marques Colom, Innovative Finance, ICLEI – Local Governments for Sustainability, World Secretariat