In a world where urbanization is rapidly shaping global landscapes, the need for sustainable urban food systems has never been more crucial. 
CityFood, ICLEI's global program dedicated to transforming cities into hubs for healthy people, healthy landscape, and healthy climate, recently celebrated its 10th anniversary. During the celebration at Daring Cities 2023, CityFood took the audience on an enlightening one-hour tour across cities that have made significant strides in transforming their food systems. The cities of Cape Town in South Africa, Curitiba in Brazil, New Haven in the USA, and Torres Vedras in Portugal served as inspiring examples of how cities can leverage various tools to drive climate action through their food systems. Missed the event? Worry not – we've got you covered. You can access the full session, including keynote speeches, panel discussions, and an insightful Q&A session here.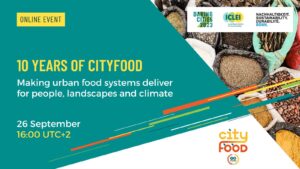 Food+Cities – An inspiring session at the Annual Association of Vertical Farming (AVF) Summit
At the 7th AVF Summit in Dortmund, CityFood Co-Lead Balance Phala shared insights and moderated a session on "Cities best practices and challenges in urban agriculture implementation." Featuring distinguished speakers from organizations including the Food and Agriculture Organization (FAO) and the Future Food Campus, one of the key highlights of the session was the exploration of indoor and vertical farming as a promising complementary solution for food production. While challenges such as limited space, arable land scarcity, and resource constraints abound, vertical farming has the potential to provide a sustainable method for producing food in urban areas. This aligns with CityFood's Healthy Climate approach and the idea of circular cities, as it promotes a regenerative approach to urban food production. Representatives from cities, Dortmund notably among them, highlighted the invaluable resources provided by CityFood, such as ICLEI's City Practitioners Handbook: Circular Food Systems, which guided their development of a circular food systems framework.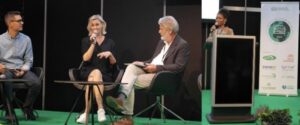 When is "local" more sustainable?
Buying local isn't just a preference; it's a movement rooted in sustainability, community support, and the celebration of regional flavors. But is local always the more sustainable choice? As awareness grows about the environmental impact of long supply chains and the importance of supporting local economies, European municipalities are stepping up to champion the cause of local food. Peter Defranceschi, Head of ICLEI's Global Cityfood Program, spoke at a conference in Oslo where he emphasized the transformative potential of healthy school meals. He addressed the conference's question "When is 'local' more sustainable?" by highlighting several key issues,  including the need for local approaches to embrace diversity, both in terms of food varieties and cultural significance. He also pointed out the importance of supporting small-scale initiatives such as local farmers, on-site kitchens and small and medium-sized enterprises, and the embedding of fresh and seasonal produce within short food supply chains to ensure that local food is not only sustainable but also of high quality, benefiting both consumers and the environment.  
In October, ICLEI CityFood also hosted and participated in three other international events:
During the

European Week of Cities and Regions

, ICLEI hosted a

high-level session

with Members of the European Parliament, Mayors, other key stakeholders as well as school children to advocate for healthy school meals and food education for every child in every school in Europe. This event was the culmination of several previous joint sessions, projects, and initiatives advocating for transformative and concrete minimum standards in public canteens throughout the EU (including ICLEI's

petition

which reached over 50,000 signatures), building on the shared goal of creating more socially just and resilient food regions and communities. As quoted in a

Guardian article,

"It's not left or right, liberal or green, it's really just a smart thing to do."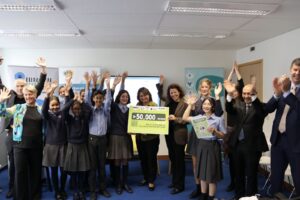 On the occasion of the

World Food Forum

in Rome, a delegation of youth representatives of ICLEI and partners of the SchoolFood4Change project also highlighted the critical role of school meals in fostering food systems transformation and called for more coordination between the national, regional, and global levels to harness their full potential. In their

statement

, the ten young members of the SchoolFood4Change Delegation are unequivocal: school food needs a change, and the time is now.

At the

"Future of Organic Food" International Conference

in Bremen, representatives of European organic cities, initiatives, and the European Commission came together to discuss the role of cities and regional value chains in shaping sustainable food systems. In its action plan, ICLEI member Bremen has outlined its commitment to providing 100% organically sourced public catering in canteens and schools by 2025.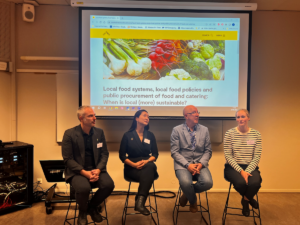 Combating food loss and waste: A cross-cutting dialogue
On October 3rd, the Valencia World Sustainable Urban Food Centre (CEMAS), in collaboration with the European Food Information Council (EUFIC) organized a conference focused on multi-stakeholder approaches to combat food loss and waste. In a session dedicated to urban food policies, CityFood, represented by Angèle Tasse, shared insights on the importance of cities in the fight against food waste and the critical role of city networks in connecting them and fostering peer-to-peer learning. This event brought together diverse stakeholders and experts – including universities, civil society, public authorities, city networks, and FAO – to identify key priorities in the fight against food loss and waste at the local, regional, national, and European levels.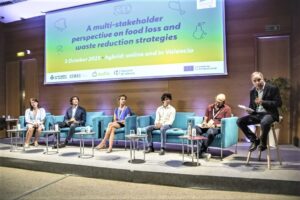 Interested in finding out more about CityFood and how to join us? 
Feel free to browse our website to learn about resources, events, and benefits for cities joining CityFood. You can also contact us at cityfood@iclei.org. We look forward to getting in touch with you! 
PODCAST ALERT:
Curious to learn more about the power of school meals? Listen to the latest
podcast episode
developed by
SALSIFI
in cooperation with the Deafal ONG, in which Peter Defranceschi, ICLEI's Global CityFood Program Coordinator, interviews Claudia Paltrinieri, the founder of Foodinsider.it, an Italian parents' advocacy campaign aiming to boost the quality of public school canteens in Italy. 
*This article was written by Balance Phala from ICLEI World Secretariat.